Voting has now opened for the 2021 People's Choice Award. The People's Choice Award specifically recognises our individuals and teams who have responded so magnificently to the challenge of caring for people during the pandemic, while at the same time maintaining a range of essential services and continuing to provide essential care.
It was an incredibly difficult task for the shortlisters to select the six finalists for the public vote as the quality of nominations was exceptional. Staff across the whole of our health and social care system continue to face the daily challenges and pressures of a pandemic under incredibly difficult circumstances.
---
How to Vote
To vote online and for further information on this year's Scottish Health Awards visit the website.
Alternatively you can call to vote for your winner on 0800 031 9104 and input the 4- digit code of who you would like to win.
---
The six finalists are as follows:
Forth Valley Primary Care - Covid Care Home Response – NHS Forth Valley - 0001
Homeless Health and Asylum Service – Glasgow City Health and Social Care Partnership - 0002
Homestart Glasgow North/North Lanarkshire – NHS Lanarkshire - 0003
Lisa Watt - Shetland Health and Social Care Partnership - 0004
NHS Fife Community Listening Service Volunteers – NHS Fife - 0005
Scottish Ambulance Service - 0006
Voting will close on Friday 8 October 2021.
All winners across the sixteen categories will be announced on Thursday 4 November at the awards ceremony.
2021 celebrates an incredible 20 years of the Scottish Health Awards. The Awards recognise, not only, the outstanding contribution of frontline health and social care workers but also shines a light on those who work so hard behind the scenes in support roles to ensure Scotland has the highest standard of health and care services.
The 2021 Scottish Health Award categories are:
Support Worker Award (sponsored by UNISON NHS Lothian Branch)
Innovation Award (sponsored by NHS Research & SHIL)
Volunteers Award
Midwife Award (sponsored by Royal College of Midwives)
Allied Health Professional Award
Young Achiever Award
Unsung Hero Award
Care for Mental Health Award
Integrated Care Award
Tackling Health Inequalities Award (sponsored by Scottish Government)
Leader of the Year Award
Nurse Award (sponsored by Unison Greater Glasgow & Clyde)
Doctor Award
Top Team Award (sponsored by UNISON Scotland Health Committee)
Global Citizenship Award
People's Choice Award (sponsored by Alpha Solway)
For further details on the People's Choice Finalists please visit the website.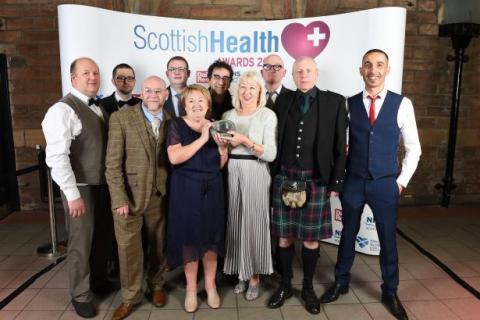 Vote for the People's Choice Award
For further information and to vote for this year's People's Choice Award, visit the Scottish Health Awards site.