Stand 17
eCom Scotland – eLearning for the NHS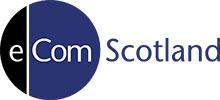 eCom is expert in designing digital learning for the NHS, to develop knowledge across the health and care workforce.
Combining creative design and robust project management for complex, healthcare, medical and sensitive content, bespoke eLearning will help develop a capable workforce for 2020 and beyond.
Our instructional designers work closely with your subject matter experts to develop appropriate content bringing passion to every subject they work with.
Visit stand 17 and chat to us about your project.