Stand 78
Professional Standards Authority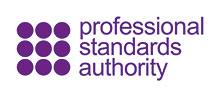 We help to protect the public through our work with organisations that register and regulate people working in health and social care. 
We are independent and we are accountable to the UK Parliament. Our reports help Parliament monitor and improve the protection of the public. We also encourage organisations to improve the way they register and regulate health and care practitioners in the UK.
We are committed to being independent, fair, consistent, proportionate and focused on public protection.