Stand 86
Solicitors for Older People Scotland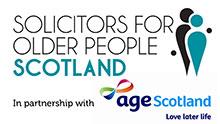 An affinity group of Scottish Law Firms providing legal services to older people in Scotland.
We try to remove any fear older people may have about seeking legal help.
We adhere to a Code of Practice including assessing all clients over 60 for Legal Aid for Wills, Powers of Attorney and Advance Directives. 
We engage with third sector groups, NHS and local authorities all over Scotland delivering free talks and sessions on legal forward planning.