Dr Lucie MacKinlay
Clinical Psychologist-LAAC, NHS Forth Valley, CAMHS and Falkirk Council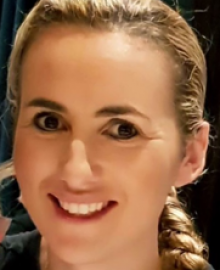 Dr Lucie MacKinlay currently works as a Highly Specialist Clinical Psychologist for NHS Forth Valley and Falkirk Council. This role was created by the local authority and NHS in partnership to provide a bespoke and effective mental health service for children specifically looked after by Falkirk Council. Lucie works collaboratively with both social work and CAMHS colleagues to meet the psychological and emotional needs of these specific young people in a timely and accessible way.
Lucie's main interests include attachment and trauma, as well as risk and emotional resilience. Within this role, and within private practice, Lucie frequently provides reports for the Children's Hearings, Looked After Children's reviews, courts and legal processes. In addition, she regularly provides training to foster carers, residential carers, social workers and potential adopters. 
Lucie routinely teaches on the Doctorate Clinical Psychology course and provides training to new Children's Panel members and Safeguarders. Previously, Lucie has provided consultation for the Interventions for Vulnerable Youth project (Centre for Youth and Criminal Justice) at Strathclyde University, worked in CAMHS in Cambridgeshire, been a programme supervisor for a multidimensional treatment foster care service and worked within secure care in South Essex. Lucie has worked for the NHS for over 15 years, prior to this working within the Forensic Psychology remit.