Edward Dunstan
Orthopaedic Consultant, NHS Fife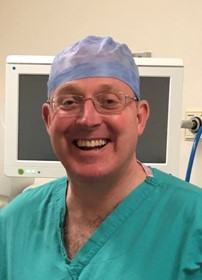 Having qualified as a Doctor in 1993 Edward Dunstan has over 25 years of Orthopaedic experience. Edward trained at the internationally renowned Royal National Orthopaedic Hospital, Stanmore, where he was the Senior Surgical Officer, and was awarded the Seddon Society Medal for research. There, Edward trained with some of the leading hip and knee replacement surgeons in the UK. Edward's fellowship year was spent in London training in minimally invasive techniques and rapid rehabilitation. He is the clinical lead for Enhanced Recovery in Fife, and has lectured nationally on the subject of Day Case Hip Replacement Surgery. 
In 2018, Edward performed the first Day Case hip replacement in Scotland. Edward was also Clinical Lead in Orthopaedics, in NHS Fife, from 2010-2015; and Director of Surgery in NHS Fife from 2016 to 2019. 
From 2016 to 2020 Edward was Chair of the Scottish Committee of Orthopaedics and Trauma, and sat on the Council of the British Orthopaedic Association.