Rebecca Patterson
Director, GLGDGG, Scottish Partnership for Palliative Care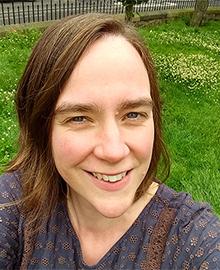 Rebecca is Director of Good Life, Good Death, Good Grief, an alliance working to promote more openness about death, dying and bereavement in Scotland. This work has included creation of the Dining with Death conversation menu and Advance Care Planning origami game; the co-ordination of several Scottish death awareness weeks; and initiating Death on the Fringe – a series of shows at the Edinburgh festival fringe that look at death and dying. She has led the establishment of To Absent Friends, a people's festival of storytelling and remembrance which takes place across Scotland each November.  
In 2016 she worked with Mark Hazelwood and Colin Gray to create It Takes A Village, a powerful and challenging series of portraits and personal stories exploring the idea that as people's health deteriorates, care and support comes in many guises. She was lead author on the recent publication A Road Less Lonely: moving forward with public health approaches to death, dying and bereavement in Scotland.  
Current projects include the development of a new public education course End of Life Aid Skills for Everyone, and the establishment of a community development project to nurture compassion within local communities.