Rebecca Wooley
Squadron Leader DARTS Medical Officer, RAF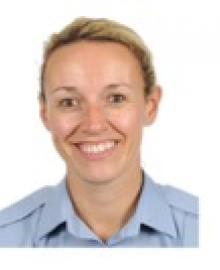 After completing degrees in Biomedical Science and Medicine at the University of Sheffield, Woolley graduated from RAFC Cranwell in 2011, having held a medical cadetship since 2005. Woolley undertook part of her general practice specialist training at MDHU Frimley Park before moving to an NHS GP practice in Burford. Woolley completed her medical training at RAF Benson and on promotion to squadron leader in 2014, took up the position of Unit Medical Officer at RAF Waddington.
Woolley deployed as SMO Op KIPION to the UAE in 2014 for which she received an AOC's commendation. As well as being Comd Med for the JOA, Woolley held the medical risk for all deployed service and civilian pers, provided senior clinical support to digital medics and held overall aeromedical authority for the region. Woolley was also responsible for the provision of healthcare governance throughout the JOA as well as providing primary and emergency care to pers at her main location.
On returning to RAF Waddington in May 2015, Woolley became the lead for healthcare governance and risk for the Station Medical Centre before deploying again to Morocco with JHC on Ex JEBEL SAHARA. Woolley was posted to the Deployed Aeromedical Response Teams Sqn, Tactical Medical Wing, in Dec 2015, where she has supported multiple exercises including RED FLAG, VORTEX WARRIOR, ATLANTIC TRIDENT, and ATLC as well as spending two winters in Northern Norway in support of Commando Helicopter Force on Ex CLOCKWORK, for which she completed cold weather survival training.  Woolley led the RAF R1(L) on Op RUMAN as part of the HADR following Hurricane Irma, where she held command and control of the main R1 for the JOA as well as responsibility for all aeromedical moves and clinical supervision of the tri-service GDMOs and medics. She also provided support to the PJHQ Med planning team and specialist input to the CoC on sensitive Ops taking place in the JOA. Woolley received a DComm Ops commendation in the QBHL for this. As part of the first deployment of pers to Mali on Op NEWCOMBE, she implemented key medical policy and enforced force health protection for the CH47 detachment and its enablers as well as establishing a robust PHC capability embedded within a French R1. In Oct 2018, she deployed on Op RAKEFUL to support the PJHQ OLRT coordinating the delivery of UK aid to Indonesia.