Rhona Hotchkiss
LLM, BSc (Hons), QNIS Assoc. Fellow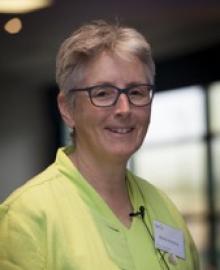 Training as a nurse 40 years ago, Rhona retired as a Prison Governor in February 2019. She specialised in ITU nursing and moved into cardiac rehabilitation before leading a national project to introduce Integrated Care Pathways to NHS Scotland.
In 1997, she became an advisor in Nursing and Quality at Scottish Government and from there the first Director of the Nursing and Midwifery Practice Development Unit. After spending a year as an Executive Director at QIS, during which time she was Health Inspector with HM Prisons Inspectorate, she went into management consultancy before joining the Scottish Prison Service as Deputy Governor of Barlinnie in 2009. She went on to work at HMPs Shotts, Dumfries, Cornton Vale and Greenock, the latter three as Governor in Charge. She is a non-executive director at Healthcare Improvement Scotland. 
Since retiring, she is spending her time volunteering, walking, gardening and mucking out her chickens.