In Conversation with… Professor Sir Gregor Smith, Chief Medical Officer and Professor Alex McMahon, Chief Nursing Officer
11:45 - 13:00
In this highly interactive session, Professor Sir Gregor Smith, Chief Medical Officer and Professor Alex McMahon, Chief Nursing Officer will discuss the challenges facing clinical leadership and evolving clinical services as we recover from the pandemic and reform for the future. In particular focusing on fostering a culture of stewardship among healthcare professionals and the need to support them to deliver value based healthcare and a more sustainable system, supporting the workforce and ensuring their voices are heard and how the they can contribute including taking forward climate action.
This more-intimate session will be facilitated and delegates will have the chance to send questions in advance as well as in real time from the floor.
Please note that the In Conversation sessions are smaller and more-informal, therefore spaces will be limited and you are advised to book early.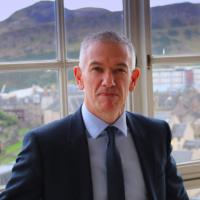 Chief Medical Officer for Scotland, Scottish Government
---
Professor Sir Gregor Smith, Chief Medical Officer, has led Scotland's healthcare staff through the (COVID-19) pandemic and is aware of the impact this has had on the nation's health. First hand clinical experience in general practice has demonstrated the need for a fair and accessible health system for all.
Chief Nursing Officer, Scottish Government
---
Professor Alex McMahon is Chief Nursing Officer for Scotland and Director of the CNO Directorate in Scottish Government. He took up post on the January 2022.