14:00 - 15:15
Trauma Informed Cervical Screening
With the re-establishment of the cervical screening programme within NHS Forth Valley, they have identified a cohort of women that required more responsive support to ensure they could access this service in a sensitive trauma focused way.

The Meadows is a dedicated facility, providing a multi-agency wrap round service for children and adults who have experienced Gender-Based Violence. The Meadows staff work collaboratively with the clinicians within the trauma clinic, after it was recognised that many of the women have either never attended or been lost to repeat/follow up for cervical screening due to the potentially traumatic nature of the procedure. In addition, the effects of the (COVID-19) pandemic on mental health have had an adverse impact on those with vulnerable mental health, triggering mental health conditions or exacerbating existing ones.

This service was developed to identify those that can find this procedure extremely difficult with a view to increasing uptake, improve women's experiences, and identify early health changes to enable preventative treatment, thereby improving prognosis and health outcomes for women.
Delegates will hear more about the difficulties women, who have experienced sexual violence, face when accessing health care and in particular when it involves an intimate examination. The presentation will discuss the trauma informed principles and how these can be applied across a range of health settings and departments.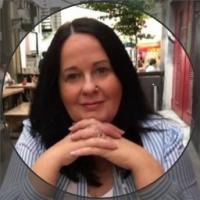 Service Manager/Senior Midwife, NHS Forth Valley
---
Helena Marshall began her career in Health in 1993 and trained as a midwife at the University of Stirling.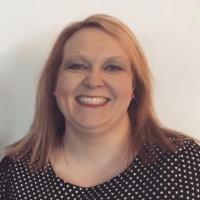 Gender Based Violence & Sexual Assault Service Lead, NHS Forth Valley
---
In her current role as the Service Lead for Gender Based Violence and Sexual Assault in NHS Forth Valley, Hazel is committed to improving the support providing person centred care.
Cancer Prehabilitation - A toolkit to Inspire Local Service Development
The Scottish Government's Cancer Recovery Plan (2020) set out to both redesign cancer services and increase service resilience in response to the (COVID-19) pandemic. A flagship action in that plan, and also the wider NHS Recovery Plan (2021), is Cancer Prehabilitation (prehab).
Prehab helps people prepare for treatment through promoting healthy behaviours and needs based prescribing of exercise, nutrition and psychological interventions. It maximises resilience, improves long-term health and reduces both length of stay and post-treatment complications, whilst also enhancing experience and overall quality of life.

A multi-professional, multi-agency group has been working together since April 2021 to create a range of resources that will enable service providers to deliver high quality multi-modal (nutrition, activity and psychological wellbeing) cancer prehabilitation across Scotland.
The presentation will focus on the four main resources being launched by the group during 2022. These include:
Key principles for implementing Cancer Prehabilitation;
The National Psychological Therapies and Support Framework for People Affected by Cancer;
A National Nutrition Framework for People Affected by Cancer; and
A website supporting access to universal prehabilitation interventions.
Early results from a Scottish Government funded prehab pilot being delivered across Scotland by Maggie's will also be presented alongside findings from user engagement work which has guided our approach.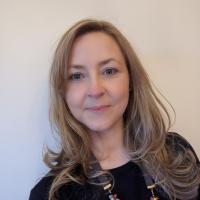 Clinical Advisor, Cancer Policy, Scottish Government
---
As a Clinical Advisor to the Scottish Government's Cancer Policy Team, Debbie is responsible for a number of Cancer Plan actions including those which focus on prehabilitation and single point of contact.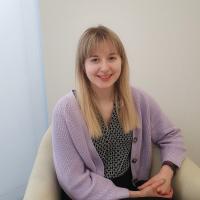 Counselling Psychologist, Maggie's Centres
---
Hannah Grüneberg is a Counselling Psychologist who works at Maggie's Fife, providing psychological support to people affected by cancer.
Blended Wellbeing Support for People Affected by Cancer in Scotland through Psychological Therapies
In this presentation, delegates will hear more about the incredible care that Cancer Support Scotland (CSS) has provided throughout the (COVID-19) pandemic to support the mental health of people affected by cancer in Scotland.
Delegates will hear how CSS staff immediately began developing and implementing an extensive range of innovative ideas, demonstrating tenacity and, most importantly, a commitment to providing the best possible service for people during an incredibly challenging period. The services on offer immediately transformed to a digital platform ensuring people could still access free low and mid-level psychologic support.
This has been greatly received and has helped CSS expand their reach to every part of Scotland, guaranteeing mental health support to anyone affected by cancer.
With the success of digital services and as we move out of the pandemic, CSS has reformed for the future, moving forward with a blended approach providing both in-person and digital options so that they can be accessed by a wider demographic. Implementing a blended approach has shown that psychological therapies are dynamic and flexible, and their core benefits can be realised across a wide range of mediums.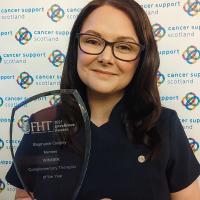 Service Manager
---
Stephanie Quigley is the award winning Complementary Therapist and service manager with Cancer Support Scotland.