Exhibitors & Sponsors
Exhibiting at or sponsoring the NHS Scotland Event offers the means to portray key messages to a focused, influential audience, leaving a strong and lasting impression of your brand and services.
Our sponsorship and advertising packages are designed to help you engage, impress and network with the Event delegates and provide a unique opportunity to raise your profile and engage with NHS Scotland and its partners.
2019 Exhibitors
01.

02.

03.

04a.

08.

09.

10.

11.

13.

14.

15.

16.

17.

19.

20.

22.

23–26.

27.

28.

29.

30.

31.

32.

33.

35.

37.

38.

39.

40.

41.

42.

43.

47.

48.

49.

50.

52.

53.

55.

57.

58.

59.

60.

61.

62.

65.

66.

67.

68.

69.

70.

71.

72.

73.

75.

76.

77.

78.

79.

80.

81.

82.

83.

84.

85.

86.

87.

88.
Why get involved
The NHS Scotland Event offers a wide range of creative exhibitor opportunities which will enable you to demonstrate dedication and investment in NHS Scotland.
Exhibiting at the NHS Scotland Event offers the means to communicate key messages to a focused, influential audience and to communicate your service offering.
It was a fantastic Event to be part of. A great opportunity to demonstrate what the organisation was all about to a wide audience but also to understand some of the great and exciting work that is being done by so many amazing people in the NHS. As a charity it was a privilege to take part.
Who will you meet
The 2019 Event attracted over 2,000 health and social care leaders, key decision-makers and frontline staff from across NHS Scotland and its partners, providing them with a unique opportunity to listen, learn and participate in crucial dialogue about the future of health and social care in Scotland.
Who will you meet
Interact and network with around 2,000 health and social care professionals.
Connect with senior leaders and key decision-makers in NHSScotland and its partners
Build new partnerships and increase customer contacts and business opportunities.
Exchange ideas, share information and educate the audience.
Wide exposure
Increased awareness of your products and/or services amongst Scotland's most influential health and social care decision-makers.
Target market
Raise the profile an heighten your organisation's visibility within the health and social care sectors.
Target those most likely to engage with your products and/or services.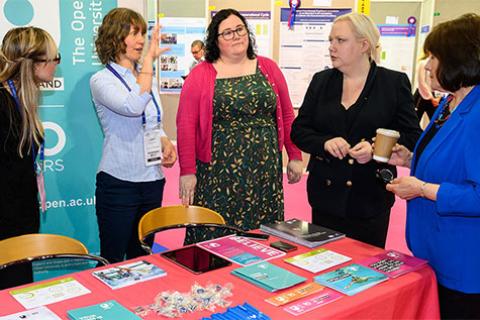 Interested in being an exhibitor or sponsor?
A valued strength of the NHS Scotland Event is the exhibition which, together with a full programme of keynote speakers and learning sessions, provides the ideal mix of educational and networking elements that will deliver a stimulating and highly motivational delegate experience.
Frequently Asked Questions
Here are some of the most frequently asked questions.